Artspace oversees the cultural programme of the Cathedral curating exhibitions, installations and programming performances, discussions and talks.
We work with local, national and international artists and offer a range of experiences designed to engage, stimulate and challenge the visitor.
We welcome requests to exhibit or perform in the Cathedral. Please contact artspace@bradfordcathedral.org
As We Journey Together
Kate Abbey – Artist in Residence at Bradford Cathedral from 2020 – 2022 – premiered her photography exhibition 'As we journey together: an exploration of Faith in Bradford' in the Cathedral earlier in the summer, and you can now continue to view it as part of our new digital exhibition.
14th - 19th November 2022: Child of Empire
Child of Empire is an animated virtual reality (VR) docu-drama experience which immerses viewers in one of the largest forced migrations in human history: the 1947 Partition of India and Pakistan.
The film takes audiences through a deeply personal perspective of this epic historical event. Two men from the Partition generation — Ishar Das Arora (voiced by Adil Hussain), an Indian Hindu who migrated from Pakistan to India, and Iqbal-ud-din Ahmed (voiced by Salman Shahid), a Pakistani Muslim who made the opposite journey — share childhood memories of their experiences while playing a board game.
As the two men unpack their memories, audiences embody the experience of a 7-year-old child at key points in the migration. Child of Empire offers a powerful counter-narrative that lends a fresh perspective on the effects of forced migration on everyday individuals. Child of Empire is directly inspired by real life accounts of three Partition witnesses from both sides of the border.
12th September - 23rd October 2022: Peter Marlow - The English Cathedral
The exhibition was open during our regular opening hours: in the East End were all 42 of the photos.
Visitors were also invited to take their own photo of the Cathedral using the Fujifilm instax cameras and pin them up on the magnetic board.
There was also a photo spot in the West End where visitors were invited to create their own version of Peter Marlow's photograph.
20th June - 31st August 2022 - As we journey together: an exploration of Faith in Bradford
Photographer Kate Abbey is Artist in Residence at Bradford Cathedral. Her work explores the multi-faith community unique to Bradford, asking the question 'is it possible to photograph faith?'.
Having encountered initial restrictions of access due to lockdown, Abbey met members of the Cathedral's congregation in parks, then gardens and then homes. As the residency progressed and the work deepened, the project expanded, exploring many different faiths as well as personal spirituality.
"It was always important to show each sitter's home within the portraits; there is so much we can learn from their personal landscape. I want the viewer to recognise themselves in the images, as well as appreciate the differences. Although each sitter is alone, they are not isolated, whether it be with their God, with myself taking the shots or together with the other portraits in the exhibition.
As part of the portrait process, I interviewed the sitters to learn more about their specific religions and their personal journey; this created a deeper understanding between us. It allowed me an insight into their beliefs, and unexpectedly raised questions around my own spiritual journey and perception of faith." Kate Abbey.
The 12 displays position the people of Bradford back into the congregation.
You can also scan the QR code on the flyer or screen using your phone camera to hear some accompanying audio commentary.
18th March 2022 - Illumination: An Evening of Poetry, Music and Song
Mussarat Rahman and Leeds-based poet Siobhan Macmahon hosted an evening of poetry, music and song.
Winter 2022 - Tear and Repair
Tear and Repair is a collaboration between artist Nicola Moody and Luton-based charity Azalea, who 'empower men and women to choose to walk free from being caught up in sex trafficking and commercial sexual exploitation'. She ran a series of workshops with the women who went to the charity for support.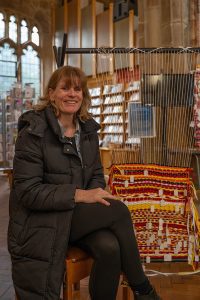 5th + 6th November 2021 - Bradford is LiT - Light Organ
The 'Light Organ' is an installation of coloured pipes which change according to music and sound.
3rd November 2021 -The annual Arts and Theology de Lacy Lecture - This Rough Magic: God, the arts and hope
The arts are crucial to human flourishing and to the economy. This is because the arts touch the imagination, engage emotion, stimulate association, and go beyond what is measurable. Furthermore, the arts lie at the heart of biblical literature and open up perspectives on meaning, hope and faith. 'This rough magic' (Shakespeare, The Tempest) will also touch on implications for public policy.
Winter 2021 - Kehillah: Photography By Nudrat Afza
The self-taught documentary photographer has spent the last 30 years recording the everyday lives of people in the diverse communities of West Yorkshire, resulting in critical acclaim and several exhibitions.
The show presents Afza's work with the dwindling congregation of Bradford's Reform Synagogue.
Autumn 2021 - Aire Valley Arts - Unfolding
Art, like life, has a beautiful way of unfolding in its own exquisite way and in its own natural time frame.
We may start with an idea, a concept, a vision, but the real beauty, in art and in life, is often found when we allow a natural, unforced, free-flowing unfolding.
The exhibition, 'Unfolding' is a celebration of this natural, creative process.
The exhibition was split between Bradford Cathedral and Kala Sangam.
20th June 2021 - We Cannot Walk Alone
An art installation for Refugee week accessible from the State Gate.
A One Day Art Installation on World Refugee Day, to remember the sanctuary seeker communities of the world. People can leave shoes on the day which will go to various refugee/ homeless charities housed locally in Bradford.
June 2020 - Refugee Week 2020: Freedom / Wolność - Finding Home by Basia Szymańska
This is an audiovisual exhibition about polish combatants, who came to the UK after WWII. It consists of portraits and recordings of 5 people, who shared their story about surviving war, and their journey to find a new home in England. What started as a simple university project, evolved into something much bigger and meaningful, than I imagined. It is not only a collection of personal memoirs, but also a record of history, told by eyewitnesses for the next generations to learn. Each story is different, but they all share one thing: all those people have come a long way to find something, which is often taken for granted – freedom and a safe home.
Feb - Jun 2020 - Encounters with Jesus: An exhibition for Lent, Easter and Pentecost by Ali Thistlethwaite
Secret transactions with God in prayer have life-changing consequences. Within worship and prayer, sorrow can be turned to joy, tension to peace. Alison Thistlethwaite's paintings aim to capture some of this process in paint. Her paintings are not just depictions, or recollections, of encounters with God through the Spirit. They are themselves painted in encounter with God, much like the prayers of any one of us, but in physical form.
Alison comes from both an art and music background. Her art training specialised in colour, and her music training (for voice and music therapy) had a strong emphasis on improvisation. Sung worship is also very important to her. With abstract paintings these different streams combine. She hopes that these paintings for Lent, Easter and Pentecost will encourage personal encounters with Christ.
Ali Thistlethwaite lives in Gloucestershire and this is her second exhibition at the Cathedral.
29th January 2020 - Serenity: Poetry, Song and Music
This is an open mic event. An opportunity for anyone who would like to perform poetry, music, song, movement or anything else in the magnificent space of Bradford Cathedral.
Oct - Nov 2019 - Common Threads: Alive With Change
Common Threads met whilst studying textiles in Bradford and came to know its buildings, culture and history. The consecration of the Cathedral a century ago cemented its place at the heart of Bradford's society. The exhibition looks at this textile city through its own medium, reflecting growth and change, wealth and poverty, exclusion and diversity. It is a tribute to a remarkable, relevant presence.
16th October 2019 - de Lacy lecture: Ben Quash - Reading the Bible with a Great Company of Artists
The Visual Commentary on Scripture, TheVCS.org, is the first significant online project to introduce visitors to the entirety of Christian Scripture in the company of art and artists. Celebrated with a launch event in November 2018 at Tate Modern, TheVCS.org seeks to connect the worlds of art and religion as a one-of-a-kind resource for scholars, educators, churches and interested readers looking for insightful, original explorations of art and the Bible.
In this talk, Canon Ben Quash, the project's director, will share some of the challenges and discoveries he has encountered so far in this ambitious undertaking.
4th October 2019 - Bradford On Film
Whether you are a born and bred Bradfordian, or a newcomer to this great city, then don't miss the opportunity to be part the 'Bradford on Film' archive screening. This flagship Bradford Cathedral Centenary event is brought to you by the Yorkshire Film Archive who have delved into their vaults to curate a special journey through Bradford's rich film heritage, revealing the sights, sounds, faces, places, changing landscapes and industries, great events and everyday lives of people in Bradford from the 1890s to the 1990s.
Sep-Oct 2019: By the Hand of… Icons, traditional and contemporary
Chris Czainski has been painting icons for about ten years, as part of her general artistic practice using contemporary techniques. For the last two years, she has been receiving training in the traditional method of iconography using the ancient medium of egg tempera on gesso-ed wood with gilding. Examples of both styles are in the exhibition.
June 2019: Burma, Bangladesh, Bradford: A Celebration of Integration
This exhibition of photographs by Tim Smith and the UNHCR tells the story of Rohingya people forced to leave Burma. It charts their journey from refugee camps in Bangladesh to Bradford, and shows the work done by Horton Housing Association to support their new lives in the city.
Spring 2019: Touchstone: Extraordinary Drawers!
Touchstone: Extraordinary Drawers! Opening up insights in to faith, culture and journey 
From Touchstone comes a photographic exhibition that uses the hidden life contained within drawers to share insights into the everyday lives of ordinary people. Personal stories are so often private, but we invited people to share something of their 'hidden' lives by taking a photograph of a drawer that says something about them. We were given ordinary stuff that tells some extraordinary stories of life, faith and culture in Bradford.
Winter 2019: Eva Mileusnic: Counter-Flow
Eva Mileusnic's installation, Counter-Flow, represents pairs of migrants' feet. Each of the 100 pairs of slip cast porcelain pieces has been decorated with ceramic decal transfers of the world's textile patterns. The work references current global demographic shifts and the subsequent spread of cultural identities all around the world and celebrates the rich and diverse communities of Bradford. The feet will be on display in the Artspace during January and will then perambulate around the Cathedral.